The 10th jubilee edition of Skopje Poster Festival for student posters "Artificial Reality" has overcome the expectations. We had posters from more than 68 countries from all over the world. The number of the faculties that are interested in introducing Skopje Poster as part of their teaching programs has increased. Also the interest of exhibiting the posters from the festival at their galleries is more than overwhelming.
The jury was concluded from five international judges: Lex Drewinski (Poland), Lech Majewski (Poland), Sven Soric & Hrvoje Spudic from the duo "This Town Needs Posters" (Croatia) and Laze Tripkov (Macedonia)*. The President of the jury was chosen Reza Abedini (Iran). After 4 jury selections the winning posters were announced at the main exhibition.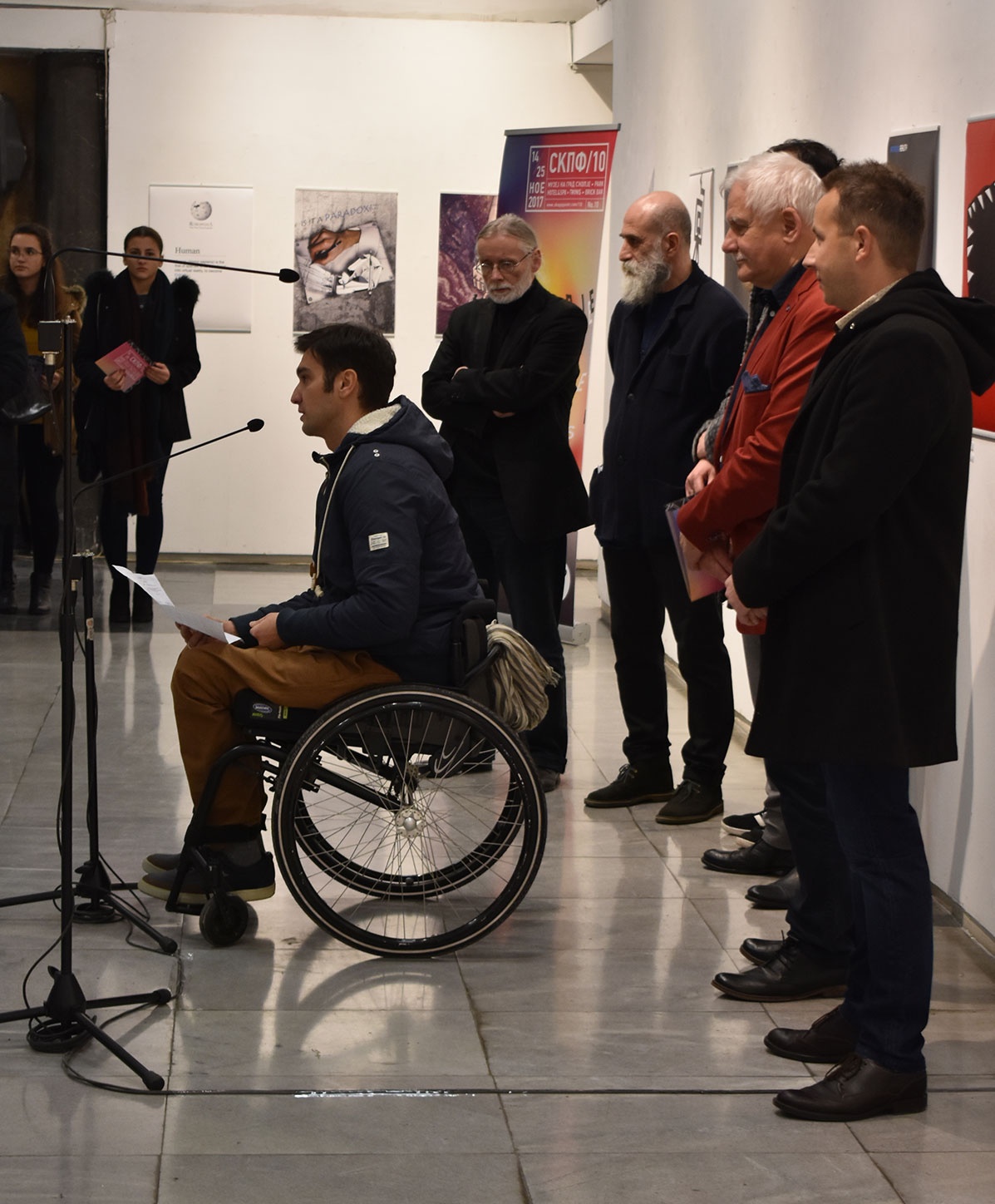 The organizer of the event and President of the Association "PlakArt", Gere Tripkov presented the equal main-prize winners: Jakub Sobczak (Poland) and Daria Grekova (Russia).
The special mention from the jury was announced Sara Lehofer (Hungary) and the special mention for Macedonian poster went to Anastasija Jovcheska.
The honorary mentions are: Pascale Begin (Canada), Karolina Lubaszko (Poland), Emoke Peter (Hungary), Jin Wei (China), Pawel Gojowy (Poland), Piotrek Pietrzak (Poland).
We introduce you the list of authors of the posters that were chosen from the international jury:
Adrian Rovina /Croatia/
Aleksandra Kazakovskaia /Russia/
Aleksandra Szlęk /Poland/
Aleksandra Szymanska /Poland/
Alexander Kim /USA/
Alexey Litvinovich /Belarus/
Amber Lim /USA/
Anastasia Shemyakina /Russia/
Anastasija Jovcheska /Macedonia/
Anna Füzes / Hungary/
Beatrix Pap /Slovakia/
Berkay Altay /Turkey/
Bernarda Poblete /Chile/
Botond Csiby-Gindele /Hungary/
Camila Bravo /Chile/
Camila Contreras /Chile/
Carlos Arcos /Ecuador/
Carolina Andrea Baeza Osorio /Chile/
Chen Yi /China/
Chi Rong Kun /China/
Ching Wei Liu /Taiwan/
Cierra Krason /USA/
Clara Martin /USA/
Connor Olberding /USA/
Crystal Holloway /USA/
Daria Grekova /Russia/
Dastan Abaskanov /Turkey/
Dastan Abaskanov /Turkey/
Dušan Košanin /Serbia/
Edona Osmani /Macedonia/
Emma Damiani /USA/
Emőke Péter /Hungary/
Eszter Urbanovics /Hungary/
Eve Knaapi /Finland/
Fan Xiaoxia /China/
Francisca Dañobeitia /Chile/
Frank White /USA/
Grace Kim /USA/
Gregor Steinmetz /Germany/
Greta Jotkutė /Lithuania/
Greta Jotkutė /Lithuania/
Grzegorz Kabas /Poland/
Jackson Dillon /USA/
Jairo Acevedo /China/
Jakub Sobczak /Poland/
Jin Wei /China/
Joanna Lewandowska /Poland/
Joaquin de Oliveira /Portugal/
Jonathan Guzman /USA/
Justina Kaubrytė /Lithuania/
Juwon Seo /USA/
Karolina Lubaszko /Poland/
Katya Kudina /Belarus/
Kunlanit Yodudom /Thailand/
Lauren Bailey /USA/
Lenka Bollová /Slovakia/
Li Yarong /China/
Liz Ramos Contreras /Chile/
Lucas Perrier /USA/
Maciej Januszewski /Poland/
Marijana Ivanova /Macedonia/
Maya DeNofio /USA/
Miguel Angel Guevara Rangel /Mexico/
Milosh Ristoski /Macedonia/
Miro Denck /Germany/
Miro Denck /Germany/
Miro Denck /Germany/
Mustafa Gürkan Gürler /Turkey/
Najmus Sakib /Bangladesh/
Nikita Tunev /Russia/
Oğuz Can Yazgı /Turkey/
Omair Ali /USA/
Pascale Bégin /Canada/
Patrick Zelikman /Finland/
Patryk Krygowski /Poland/
Patryk Krygowski /Poland/
Paulina Pelikan /Poland/
Paweł Gojowy /Poland/
Paweł Gojowy /Poland/
Petchpreaw Limprapaipong /Thailand/
Piotrek Pietrzak /Poland/
Qi Zhang /China/
Qiangsong Sun /China/
Qin Lin Yu /China/
Rodrigo Cabello /Chile/
Romina Chamizo /Chile/
Ronan O'Hanlon /Ireland/
Sara Romanov /Macedonia/
Sena Yılmaz /Turkey/
Serra Kızıltaş /Turkey/
Sommer Montenegro /USA/
Tamara Bravo /Chile/
Tiago Toledo /Brazil/
Tuğba Mermerci /Turkey/
Viktorija Valužytė /Lithuania/
Yunxiao Yue /China/
Zhang Yulian /China/
Zou Ying /China/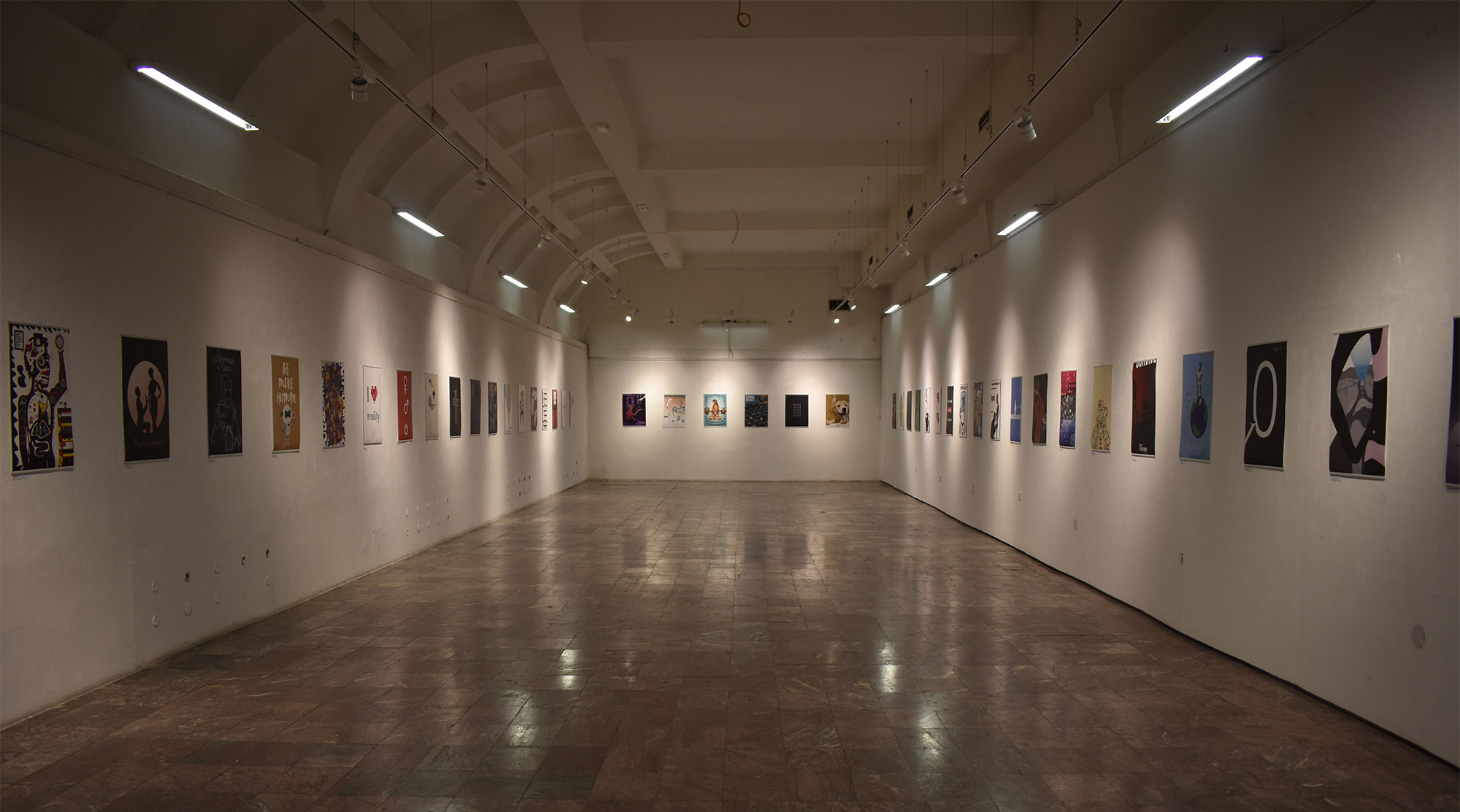 The festival days continue with presentations and additional consultations for the participants of the workshops mentored by world renowned lecturers, whose works are exhibited in the world's most important museums. The workshops topics are "Calligraphy and Poster" by Reza Abedini, "Lex is more" led by Lex Drewinski.
The main exhibition at the Museum of City of Skopje  will be opened for public until 1 of December. Along the main exhibition designers can enjoy in following exhibitions: Contemporary Macedonian Poster (Twins), This Town Needs Posters (Brick Bar) and Special Selection of the jury members artworks (Four Restaurant).
*Unfortunatelly, due to serious personal reasons we couldn't host Alice in Skopje. Both we, and herself are very sorry for that fact.

I am Skopjeposter and I am here to provide you with all needed informations. Please contact me in any matter!

Latest posts by Skopje Poster (see all)