Деветто издание на Скопје постер фестивал ќе се организира од 21-ви до 30-ти ноевмри 2016 година во Музеј на Град Скопје. Во првите три дена од Фестивалот ќе се организираат и тематски работилници.
Програмата на 9. Скопје постер фестивал ќе ги заинтересира студентите по графички дизајн, визуелни комуникации и сродни насоки, но ќе биде атрактивна и за професионалните дизајнери и за пошироката публика.
Мишел Буве (Франција), Фонс Хикман (Германија), Фин Нигард (Данска), Ришард Каја (Полска) и Тони Васиќ (Македонија) се членови на жирито кои ќе одржат свои презентации и работилници на теми: дизајнирање на џез плакат, дизајнирање на социјален постер, дизајнирање на постер за промоција на Македонија како туристичка дестинација.
"И оваа година имаме жири кое е составено од експерти од сите гранки на графичкиот дизајн – илустратори, типографи, калиграфи, плакатисти", изјавија од Плакарт.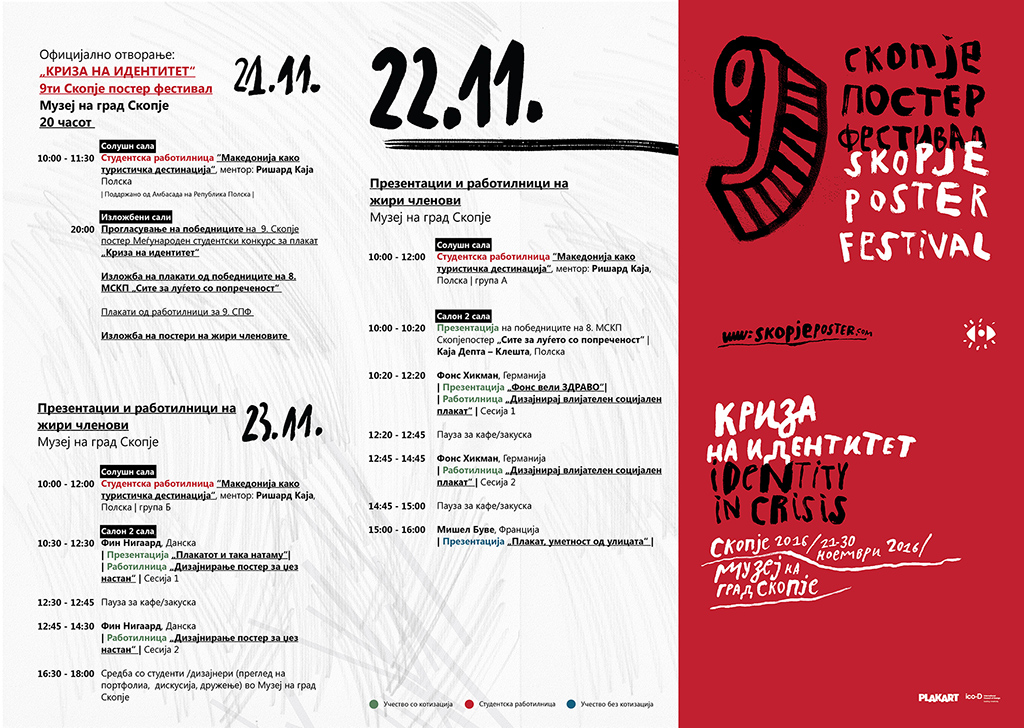 Младите надежи на графичкиот дизајн од целиот свет аплицираа на 9. Меѓународен студентски конкурс за плакат. Темата на овогодинешниот фестивал е "Криза на идентитетот". Поттикот за избор на оваа тема, велат од организацијата, е потребата од реакција против етничката, културната, верската, возрасната и половата подвоеност, следствено врз идентитетските прашања е фрлено поинакво светло!
"Се поголем интерес за овој конкурс е видлив преку поголемиот број пристигнати плакати – 32% повеќе од минатата година. Радува и фактот што се поголем број на академии во рамки на своите академски програми го воведуваат и овој конкурс", истакнаа од Плакарт.
Победниците ќе бидат објавени на отворањето на 9. Скопје постер фестивал, на 21 ноември во Музејот на град Скопје, кога ќе бидат отворени и други поставки, како што се изложбата на специјална селекција на плакати од гореспоменатите постер-мајстори, плакати од победниците на минатогодипниот конкурс, како и плакатите кои беа работени на работилници за овогодинешниот 9. Скопје постер конкурс.
На следниот линк може да се аплицира за учество на работилниците и презентациите:  https://skopjeposter.com/mk/nastani/ 

I am Skopjeposter and I am here to provide you with all needed informations. Please contact me in any matter!

Latest posts by Skopje Poster (see all)